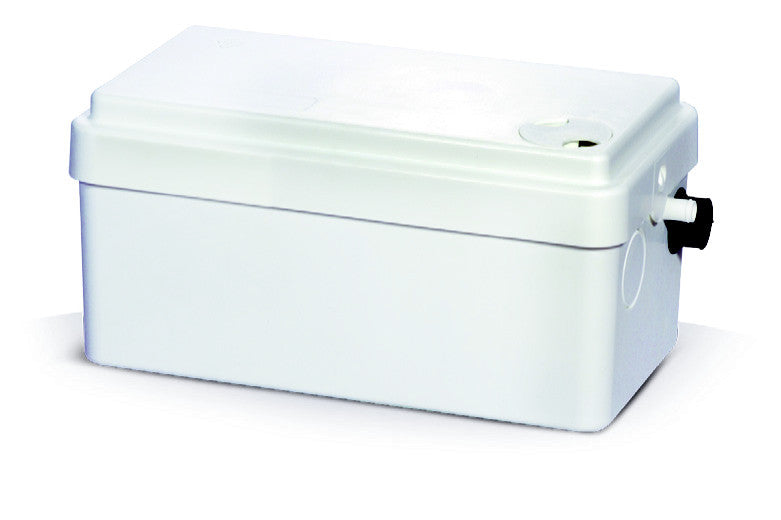 DP Discharge Waste Water Sump Pump / Power Drain for Pedicure Spas - UL & CSA certified
Regular price $319.99 Sale
The #DP Discharge Waste Water Pump / Power Drain can be used with any brand of pedicure spa requiring waste water to be drained and evacuated swiftly, vertically or for a distance. It is small enough to fit inside some pedicure spas, or can be placed to the side or behind them.
The #DP may also be used to pump waste water away from a shower, sink, bar sink or other fixture. It will pump wastewater up to 12' h and/or 100' away with gravity fall.
The #DP has a quiet operation and can be easily installed. When the water enters, it activates a micro switch in the pressure chamber, which in turn starts the motor. The motor is sealed for life in an oil filled enclosure. A spindle/shaft drives the impeller and therefore the moving parts are kept to an absolute minimum. Once the water is discharged and the water level in the container goes down, the micro switch deactivates the unit until water enters the unit again. A normal operating cycle may be as short as 2 - 10 seconds depending upon the discharge pipe run configuration; power consumption is therefore minimal. When installing, allow for the installation of a P-trap and the required 1/4" per foot gravity flow towards the pump unit.
The discharge elbow on the side can be rotated 360 degrees to fit any type of installation required. A non-return valve, which comes already assembled on the discharge elbow, prevents back flow into the unit.
This unit has been designed with a vent output on the side of the unit. All plumbing codes require connection to a vent system. Please note that the vent system should be a two-way air vent. It is also highly recommended to connect to a Ground Fault Interrupter (GFI) circuit.
UL 788 and
CSA C22.2 Certified